We made it. 5 hours of driving. For logistical reasons we take two vehicles. The oldest and I left first. We missed our goal of 7 am. Thank god. The oldest likes coffee, but Starbucks was a bit strong for the oldest taste.
Sad news. No Internet connection. Have to use the phone and type with my thumbs.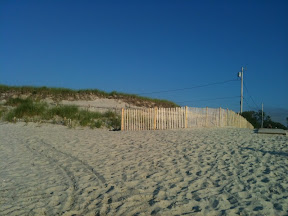 Feels good to be here. I grew up with this sort of geography. And the smell of the ocean. I love the smell of the ocean. Sand on the feet. The wind.
It's been a bit hectic getting everything set. The people before us and or the cleaning people leave a lot to be desired.
Time to be the kids.
(3 hours later) We went to the beach and found a sand dollar. I used to find them by the dozen as a kid.
It feels wonderful to have my feet in the water.
The last time we were here, 2 years ago, we were in the same house. I remember getting here and going to bed. I don't think I could get out of my own way for the first couple of days. It was only a few months PD (post disclosure).
So much has changed in the past two years. So much remains the same. It has indeed been and continues to be a long strange trip.
- Posted using BlogPress from my iPhone