Ok. So I didn't get to P-town in June. But I'm here on July 1.
Town Hall
Even the ships have Pride here.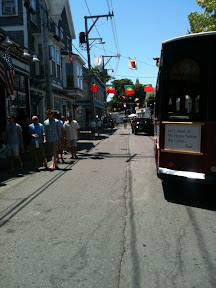 Commercial Street.
So that's the good news. I'm sitting here waiting for lunch looking out at the water. Gay rather than straight is the assumption. Or the assumption is that if you're here you don't particularly care what the other person is. Unless you're interested in them.
On that note it's been interesting checking guys out and, unless I'm wildly mistaken, being checked out.
The less than good. So I'm here walking around finally relaxed and C calls. For good reason I should say. But she says where are you now. I say still in P-town. I get the "oh!". I didn't know that's where you were going.
To be honest I don't know that I did say exactly where I was going. And then it comes, "You've shut me out."
She's right and wrong there. I haven't shut here out, but rather continue to live two different lives - a gay one and a straight seeming one. They don't do a lot of talking to each other.
That is, I don't shut C out. I shut down the gay part. That's why I've been anxious and/or depressed since Thursday. The gay part knew it was going to have a chance to get out and had to be restrained.
That is no way to live.
- Posted using BlogPress from my iPhone